Home / LEGO Sets / Monster Fighters / Haunted House
LEGO Monster Fighters Haunted House
| | | | | |
| --- | --- | --- | --- | --- |
| Year: 2012 | Theme: Monster Fighters | Set Num: 10228 | Pieces: 2064 | Minifigs: 6 |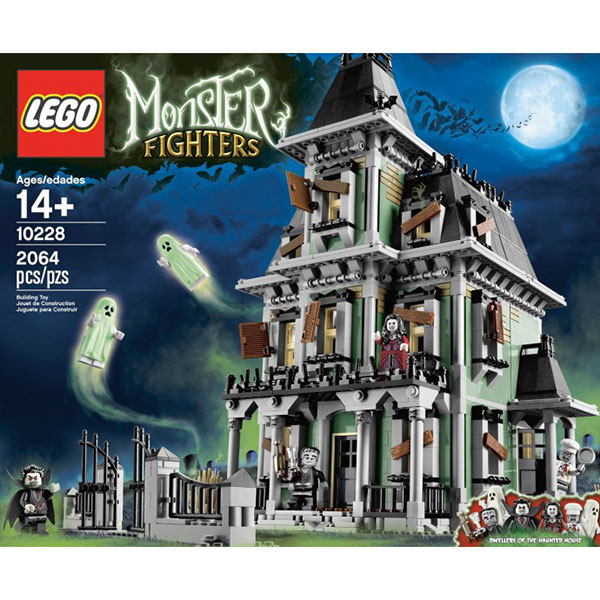 Any links mentioned in the video can be found in the description of the below link on YouTube.
YouTube Link: Monster Fighters LEGO Haunted House
The term "epic" is over-used, but that's the only way to describe the centerpiece of the LEGO Monster Fighters Haunted House. This three-level structure stands 15" high, 9" wide and is 7" deep. The exterior features boarded up windows, a swinging front gate and the entire house opens to reveal each of the three floors' interior details. Highly-detailed rooms include an old-style kitchen with stove and table, a fireplace with mantle, a haunted office and the top floor features an antique gramophone along with records. A hidden lever in the chimney reveals a drop-down staircase allowing top floor access. Spider webs and heavy curtains add to the ghoulish atmosphere, and to top it off, the house itself features a crooked design, adding an even more spooky aspect.

Six ghoulish mini-figures (Vampyre & Bride, Zombie Butler & Chef, two glow-in-the-dark ghosts) complete this official LEGO's Haunted House.